Hubei Province, Mt Wudang – the stuff of legend – flying pugilists moving boulders via remote control and immortal Taoist priests. Real or fake, Wudang Shan is a scenic spot and a major tourist attraction with huge potential for real estate investment. How can one go wrong investing in a housing project here? Let Mr Shi show you.
Interestingly, there is a building that looks like a cross between the Potala and some Chinese pagoda. But first, the wakening tour begins at a theatre at Wudang Shan, built at a cost of 100 million yuan, it could be the size of our Esplanade. It's called Taiji Theatre and it has been constructed to showcase the myths, history and culture of Wudang Shan (mostly myths).
In front of the deserted box office is a small "amphitheatre" which is actually a disused fountain. Below is a picture of that fountain during better times.
The entire complex which has been nominated for several awards and opened to great fanfare in March 2019 is now decidedly deserted. Next to it is a "cultural park" which is obviously another abandoned construction project. You'll also find the Geological Museum of Wudang Mountain here. The museum was temporarily shut in January 2020 due to the pandemic. It was not opened in August 2020 even when movement restriction was lifted. An image of the stage performance in 2019 reminds me of the 大红袍 show at Wuyi Shan. Even though Wuyi Shan has many natural wonders, overbuilding will also be an issue here, resulting in many烂尾楼.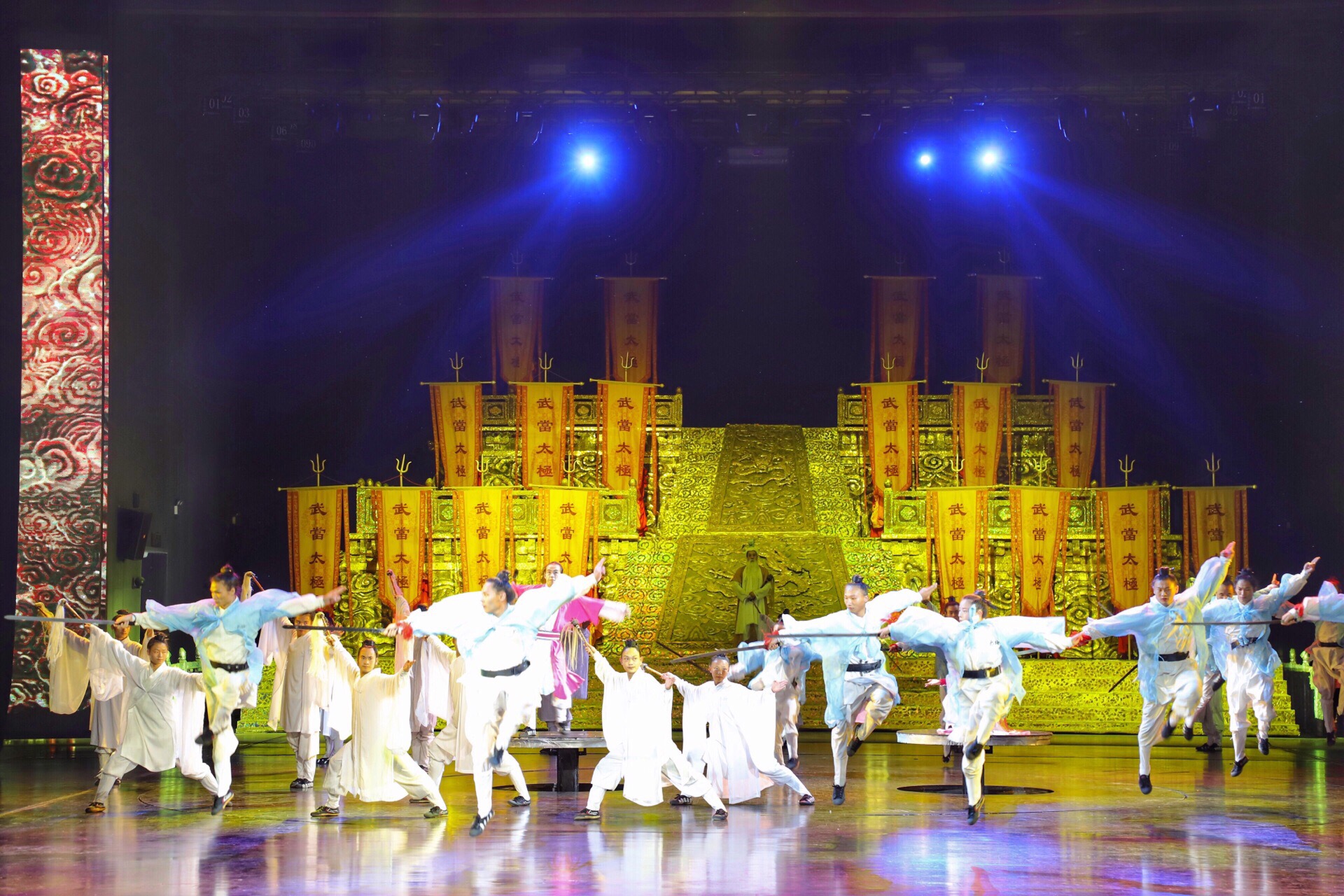 Opposite the museum is a mixed residential/commercial development. Though completed, the place is virtually devoid of life. It's not known whether they have been sold. Some of the shops may have been opened for some time, judging from the signboards, but they are all shuttered now. Developers have been banking on the location of these developments being next to the scenic and famous Taiji Lake, but there is a limited supply of foreign suckers.
There's a mural of Mt Wudang on the hoarding around one estate. Just next to the completed project, is a cluster of abandoned, unfinished buildings. Even the crane has not been removed yet. Judging from the vegetation, they must have been abandoned for years and have nothing to do with the pandemic.
An interesting warning sign around the hoarding warns intruders that there are wild boars and poisoned nails on the premises. A bank nearby had also closed down. The Zhong Jing Taiji Lake International Hotel sounds and looks grand from the outside, but this without security in sight, it's likely to be closed for good.
More completed and uncompleted (abandoned) projects across the road. Interestingly, there are some mahjong players under an abandoned block. They must be residents from nearby villages.
Before reaching Wudang Shan, Mr Shi came across a massive abandoned industrial park. Nothing to do with the pandemic; these buildings had their construction halted and abandoned years ago. There are only few relatively small blocks where a few garment factories are still operational. The only residents are found in two temporary container shelters.
One tell-tale sign of farmland acquisition is shown in the video. It's a pity that so many peasants have been forced out of their land to make way for all these 烂尾楼. Nearby, there is a plot of land dedicated to the cultivation of horny goat weed – an aphrodisiac. Make a guess how this project will end up.
Apart from garment factories, there are also factories without signboards, but the most appalling observation is the condition of the water in what's supposed to be a reservoir for drinking water. Do note that projects like these are more the norm rather than the exception. Those who saw the Taji Theatre during its grand opening will have trouble imagining it current state.
To understand land development in China, one must never lose sight of idioms like 面子工程,龙头蛇尾 and of course, 烂尾楼. Overbuilding is a gross understatement where the purchasing power of 1.4 billion people is often grossly overestimated. I know of Singaporeans who have not only been bitten once but twice.
In the 1990s, they've placed deposits for residential projects in first tier cities which ended up as 烂尾楼. At that time, they swore that they would never buy another property in China. When they hear rumours of their friends of relatives making up to 500% profits from property in China in recent years, they jumped right in, thinking that this time, it's going to be different. Little do they realise that China's economic miracle is balancing on the apex of a pyramid of debt.